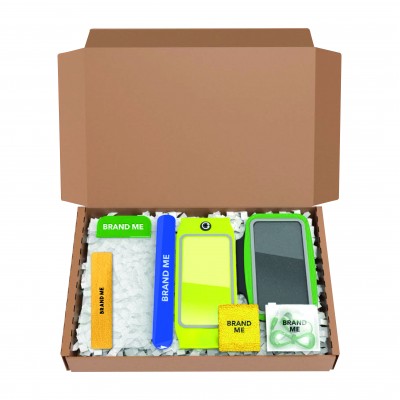 Keeping Active MerchBox
This MerchBox contains products to help with getting active, whether it be running, cycling, walking or any sport. All of these products will help you to keep active.

Each Product can be branded with any 1 colour print logo, making each pack unique to the company. Each product is available in a wide range of colours allowing you to coordinate the colours of the product or match your brand colours.

Products within the Ultra Pack:
Sports Arm Strap - Comfortable sports arm strap designed for large screen devices, in soft PU leather with vivid colours. With reflective and adjustable Velcro closure, key pocket and PVC window with touchscreen function.
Headphones - Practical and comfortable earphones, with 3.5mm jack connection and matching coloured cable. Presented in transparent PVC bag with self-closure.
Waterproof Pouch - A fantastic product to protect touchscreen devices or any other items from water or sweat. Touchscreen devices work through the PVC. Also comes with a double safety lock system for water tightness.
Bum Bag - Our Bum-Bag is water-splash resistant. Made from lycra and is available in a range of colours. PVC Pocket with tactile function. Comes with a matching zip, earphone outlet and elastic waist with adjustable buckle closure.
Low Cost Snap Band - Snap on Reflective Wristband, simply slap the band and make it curl! Available in a range of bright colours and comes in one size. Be Safe, Be Seen!
Sweat Headband - Elastic head sweat band available in bright colours. 6cm wide and made from a combination of cotton and polyester. Designed for sports and leisure activities.
Sweat Wristband - Elastic sweat wristband available in bright colours. 7.3cm wide and made from 100% cotton. Designed for sports and leisure activities.

Products within the Super Pack:
Sports Arm Strap, Headphones, Waterproof Pouch and a Bum Bag.

Products within the Mini Pack:
Sports Arm Strap and Headphones.

All the products are beautifully packed and ready to distribute to the receivers. We also offer Multiple Delivery Fulfilments and send these direct to the receivers for an additional cost.

If you don't like what you see please let us know and we can tailor, the MerchBox to your requirements with our Swapables Scheme.

All Merchboxes are packed into a postal box, which you can choose the colour, with coloured shred to ensure the products do not get damaged when in transit.
Product Materials
Packed in a Cardbaord Box with Card Shred
Artwork Guidelines: Please contact us for more information
Please log in to view your pricing options.
New Customer
No login? No Problem! Join the Promotrade family today for a great selection of products and prices.